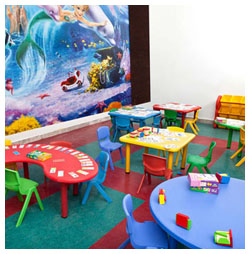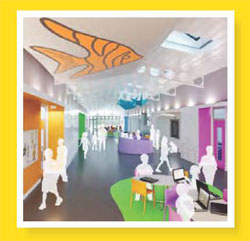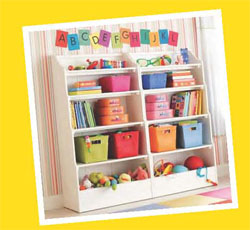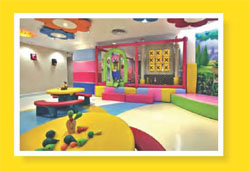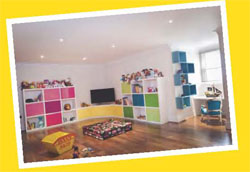 Our Infrastructure
We at 'The Steps' keep the child's comfort and safety as our top priority. Keeping in sync with the same, we have meticulously organized various sectors so that their transition into learning mode is activated with ease.
The facilities that we provide at 'The Steps' most certainly form the USP of our attempt to make the whole learning experience of the child, holistic and enriching.
Each child is special to us; hence each one of them is bestowed with unmatched personal attention and love, so that he/she feels and comprehends 'The Steps' as their "home away from home" and their teachers as their guardian and caretakers in this great learning experience.
Art and Craft Studio
An Art & Craft room helps a child to improve his creativity and the power of expression. It also makes him develop the co-ordination between his imagination and the real world.
We offer children the opportunity to experience a variety of mediums such as sand, water and play dough. The children also paint, stick, help to produce collages and create models – all activities that are fun whilst at the same time helping to develop young imaginations and stimulate artistic development.
Toy Library
'Toys', the word synonymous with joy and laughter have always been a child's best friend. A hugely popular concept in the western world is now being brought to the city of Kota by introducing the joy of exploring new toys in a world class kid-based library. These toys give kids the knowledge of phonetic sounds, numbers and languages. We will also be organizing workshops on artwork, storytelling and vegetable carvings for children. Character dressing will be promoted which will help in developing their sensory skills.
Music Room
We provide a special place to render a sense of rhythm and tune to our tiny tots. The focus is joyful, playful music making with the purpose of developing musical skills, promoting whole-body learning, and creating opportunities for connection and love.
The Music Room uses high-quality instruments, colourful props, puppets, books and felts designed to motivate and engage your child in the joy and beauty of music.
The goal of The Music Room is to build a strong musical foundation, so that music will become your child's companion for life.
Water Play Area
Splish, splash, bubble, bubble, pop! Water play, both indoor and outdoor, is a unique activity for children because it's always available,open-ended, and provides opportunities for extended learning. It is great for sensory play with kids as it engages children into a world of exploration and wonder and helps them strengthen their physical skills, advance their social and emotional skills, and to enhance language development.
Yoga & Movement Room
We all love watching little children dance around the room with little or no inhibition. Keeping that in mind we are introducing a special movement and yoga room to encourage body movement, rhythm and counting with a selection of music that will entertain and engage the children. Toddlers will participate in yoga poses and breathing exercises which will help in building strength and flexibility while improving their body coordination with music and games.
Settling Zone
Transition from home to school for a child can take time. To make this change easier, we have a specially designed settling zone where we organize interesting activities to keep the atmosphere upbeat for little children. Initially the child enjoys in the settling zone till he/she becomes familiar with the surroundings and the teachers. Children are provided with a wide array of toys and creative activities to attract them and make it easier for them to spend some time away from their parents.
Audio cum Projector Room
It is a wonderful facility which is simultaneously engrossing and educative for the children. It has a world class audio system where students can enjoy fun and educational DVD learning programs.
Lounge Area
The most innovative streak that we at 'The Steps' have adhered to is the fact that we want the bonding between the mother and child intact. So, we have created a space for the "moms" in the form of a cafeteria and lounge area. This is where the mothers can relax and simultaneously monitor their children within the motherly wrap of warmth and sensitivity.